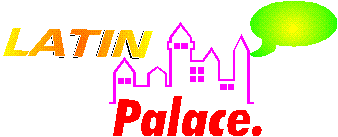 ESTAS A PUNTO DE CONOCER Y ENTRAR A UN CHAT MULTIMEDIA EN 2D TIPO REALIDAD VIRTUAL TOTALMENTE GRATIS 100% Y EN ESPAÑOL.
"You're about to know and enter to a multimedia image 2D Virtual Reality type 100% FREE and totally in SPANISH "

¿QUIERES CONOCER EL PODER DE CHATEO DEL LATIN PALACE ?
" WOULD YOU LIKE TO KNOW THE POWER OF CHATTING OF OUR LATIN PALACE KNOW ?"
INTRODUCCIÓN
( INTRODUCTION )
ESPAÑOL

ENGLISH

FOR THE MOMENT IS NOT

FOUND AVAILABLE
Páguina diseñada para una resolución a 800x600 - Latin Palace creado el 7 de abril de 1999 creador Marcelo García.
Web Master Fernando Miranda MIno.